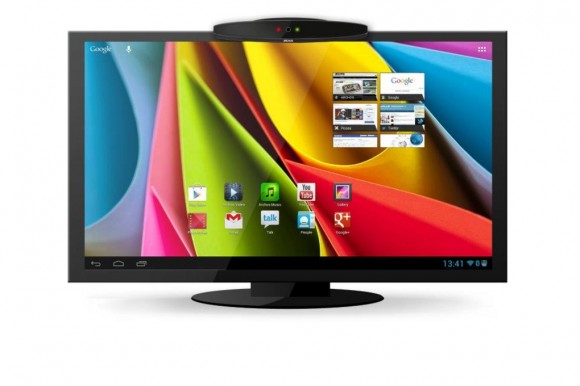 ARCHOS TV Connect è la nuova soluzione targata Archos per rendere più interattiva la vostra TV e catapultarvi nel mondo Android rendendo il vostro televisore una vera e propria Android TV. Con Archos TV Connect sarà possibile giocare, navigare, effettuare videochiamate, chattare, vedere film in streaming e tanto altro, tutto sulla propria televisione e il tutto condito da Android 4.1 Jelly Bean. Questo interessante device sarà in vendita a partire dal mese di Febbraio 2013 al prezzo di 129 euro.
torage
• Flash memory: 8 GB*
• Expandable via micro SDHC Slot up to 32 GB
Operating system
• ANDROID™ 4.1 "Jelly Bean"
CPU
• 1.5 GHz Smart Multi Core processor
RAM
• 1 GB
Interfaces
• HD camera
• Micro USB port
• USB host port
• Mini HDMI output
• Ethernet
• Micro SD slot
Communication protocols
• Wi Fi
Miscellaneous
• LED notification
• Microphone
• Front camera
Dimensions
• 235 x 105 x 34 mm
Compatibility
• Microsoft® Windows® 7, 8, Vista, XP, or higher and Windows Media Player 11
Computer interface
• USB 2.0 interface
Package includes
• ARCHOS TV connect, TV Touch remote, Power supply, HDMI cable, User guide
Requirements
• An HDTV with standard HDMI in able to display or scale 1080p
Per maggiori informazioni vi rimando alla pagina dedicata sul sito ufficiale Archos.