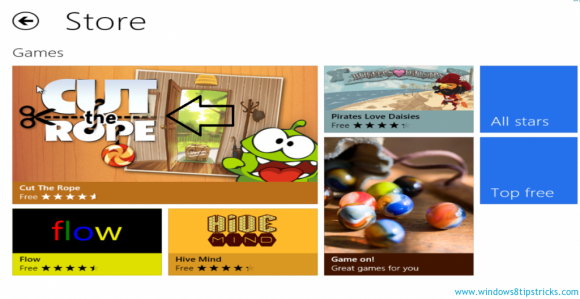 Qualche settimana fa Valve e Gabe Newell (creatore di Steam), come probabilmente avete già sentito, dichiarò che Windows 8 sarebbe stata la morte del video gaming su PC, aprendo invece le porte alla leggerezza e la potenza di Linux.
Microsoft sembra non aver preso molto bene quella notizia e, tramite il proprio store, sembra voler dichiarare guerra a Steam. La casa di Redmon ha infatti stretto dei patti con moltissime aziende che producono videogames, per inserire i vari giochi all'interno dello store del nuovo sistema operativo.
A seguire il comunicato ufficiale con la lista dei giochi:
All'inizio di quest'anno è stato annunciato che Xbox arriverà su Windows 8. Ora, in aggiunta ai propri servizi dedicati al gaming, Xbox è felice di annunciare il supporto di Microsoft Studios, Rovio, Miniclip, Gameloft, ZeptoLab, Glu Mobile, Halfbrick Studios e tanti altri per portare giochi Xbox di grande qualità su Windows 8.

La prima ondata porterà tantissimi titoli già conosciuti e amati da tutti e includerà 29 titoli di Microsoft Studios, alcuni dei quali saranno esclusive per Windows 8. Molti dei giochi saranno disponibili fin dal 26 ottobre con tanti nuovi arrivi previsti per i mesi successivi. Questo crescente catalogo garantirà tanti generi diversi e un mix innovativo di giochi che saranno fruibili su PC, laptop o tablet con Windows 8.

Ecco una veloce panoramica ai titoli che arriveranno nel corso della prima "ondata":

4 Elements II Special Edition
A World of Keflings
Adera: Episode 1
Adera: Episode 2
Adera: Episode 3
Angry Birds
Angry Birds Space
Big Buck Hunter Pro
BlazBlue Calamity Trigger
Collateral Damage
Crash Course GO
Cut the Rope
Disney Fairies
Dragon's Lair
Field & Stream Fishing
Fruit Ninja
Gravity Guy
Gunstringer: Dead Man Running
Hydro Thunder Hurricane
IloMilo
iStunt 2
Jetpack Joyride
Kinectimals Unleashed
Microsoft Mahjong
Microsoft Minesweeper
Microsoft Solitaire Collection
Monster Island
PAC-MAN Championship Edition DX
Pinball FX 2
Reckless Racing Ultimate
Rocket Riot 3D
Shark Dash
Shuffle Party
Skulls of the Shogun
Taptiles
Team Crossword
The Harvest HD
Toy Soldiers Cold War
Wordament
Zombies!!!