Nelle scorse ore, dopo diversi rumors, Nintendo ha annunciato ufficialmente anche il Nintendo Classic Mini SNES , con il pre-order già disponibile nella nota catena GameStop.
Nintendo ha finalmente ufficializzato la versione mini dello SNES. Il nome ufficiale è Nintendo Classic Mini: Super Nintendo Entertainment System (SNES) che, per i più impazienti, è già disponibile in pre-ordine anche in Italia.
Esisteranno tre versioni differenti, una dedicata all'Europa, una agli USA e una al Giappone, chiamata Mini Super Famicon, per onorare il nome storico originale.
All'interno della confezione potremo trovare:
console SNES Mini
due controller con cavo
cavo HDMI
cavo USB per alimentazione (alimentatore escluso)
I titoli classici a disposizione saranno solo 21, anche se è stata fatta una selezione tra i migliori titoli esistenti:
Contra III – The Alien Wars (multiplayer)
Donkey Kong Country
EarthBound
Final Fantasy III (Final Fantasy VI)
F-Zero
Kirby Super Star
Kirby's Dream Course
The Legend of Zelda: A Link to the Past
Mega Man X
Secret of Mana (multiplayer)
Star Fox
Star Fox 2
Street Fighter II Turbo: Hyper Fighting (supporta il multiplayer)
Super Castlevania IV
Super Ghouls'n Ghosts
Super Mario Kart (multiplayer)
Super Mario RPG: Legend of the Seven Stars
Super Mario World
Super Mario World 2: Yoshi's Island
Super Metroid
Super Punch-Out
Nel Mini Super Famicon verranno eliminati cinque titoli:
Kirby's Dream Course
EarthBound
Super Castlevania IV
Street Fighter II Turbo: Hyper Fighting
Super Punch-Out
Questi verranno sostituiti con altri cinque giochi, più in voga in Giappone:
Fire Emblem: Mystery of the Emblem
Panel de Pon
The Legend of the Mystical Ninja
Super Soccer
Super Street Fighter II
In ogni caso Nintendo non è intenzionata a cascare nuovamente negli errori fatti in passato, come la scarsa disponibilità del NES Mini e ha confermato che per quanto riguarda il Mini SNES ci saranno molti più esemplari disponibili.
We aren't providing specific numbers, but we will produce significantly more units of Super NES Classic Edition than we did of NES Classic Edition.
Super Nintendo Entertainment System: Super NES Classic Edition is currently planned to ship from Sept. 29 until the end of calendar year 2017. At this time, we have nothing to announce regarding any possible shipments beyond this year.
La data di commercializzazione dovrebbe partire dal prossimo 29 settembre e fino alla fine del 2017, mentre non sono previste ulteriori spedizioni di modelli per il 2018.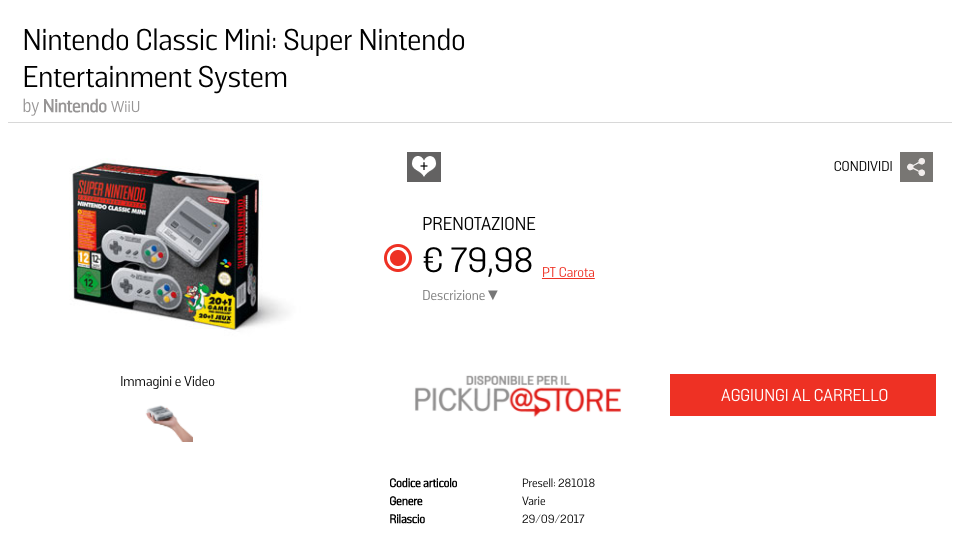 Per chi fosse interessato al pre-ordine di Nintendo Classic Mini SNES, sappiate che è disponibile sul sito di GameStop al prezzo di 79,98 €.