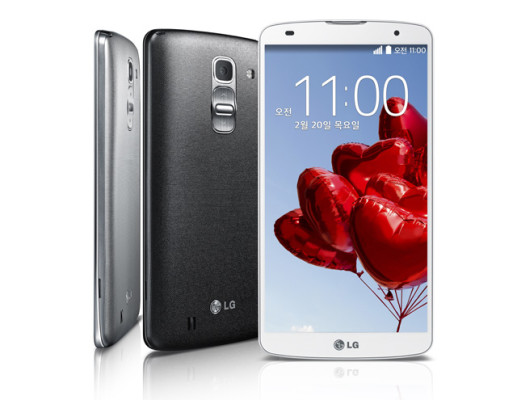 LG esce allo scoperto e, con un po' di anticipo rispetto al MWC 2014, annuncia ufficialmente il nuovo LG G Pro 2, phablet che va a migliorare il precedente G Pro, ottimo device ma che ha ottenuto poco successo.
Le caratteristiche tecniche annunciate, sono più o meno le stesse che circolavano in rete da giorni:
Android 4.4 KitKat
Display Full HD IPS da 5.9 pollici
Processore Qualcomm Snapdragon 800
CPU quad-core Krait 400 da 2.26 ghz
GPU Adreno 330
Memoria RAM da 3 GB
Memoria interna da 16 o 32 GB espandibile tramite MicroSD
Fotocamera posteriore da 13 Mpixel con stabilizzatore ottico
Fotocamera anteriore da 2.1 mpixel
Batteria da 3200 mAh
Supporto per 4G LTE / SlimPort/ NFC
Dimensioni: 157.9 x 81.9 x 8.3mm
Peso: 172 grammi
Direttamente da LG:
120FPS HD Video Recording and Slow-Motion Editing: Records in 120fps HD and allows editing of video in three different speeds ― one-half slow motion, one-fourth slow motion and original
4K ULTRA HD Recording: Records video footage in ultra-high definition mode for playback on 4K TV sets
Magic Focus: After the shot is taken, user have the option to select the preferred depth of focus before saving. Users can also press the all-in-focus icon to make every object in the frame look their sharpest
Natural Flash: Offers more balanced color temperature and exposure for the most natural-looking photos compared to images taken with a normal flash
Flash for Selfie: Reduces the size of the preview screen and adds a bright white background for more "soft" lighting in self-portrait mode
Burst Shot: Takes up to 20 continuous shots and automatically edits them to create a video of the captured images
Gallery Collage: Allows users to select photos from their gallery to create a collage for easy uploading to favorite social network sites

In addition to the latest components, the G Pro 2 also boasts a collection of upgraded features that complements today's mobile lifestyle where much of the information we need is in the palm of our hands or in our back pockets. Some of these new UX features include:

Content Lock: Provides users more security with the ability to lock files, photos, videos and memos with a unique password
Mini View: Enables users to comfortably use the G Pro 2 with one hand by shrinking the display to a size ranging from 3.4 inches to 4.7 inches, depending on the user's preference
Dual Browser: Divides the expansive screen into two separate browser windows for more convenient surfing
Per maggiori informazioni su prezzo, date e mercati di vendita, non ci rimane che attendere il Mobile World Congress, dove probabilmente sapremo molto di più.