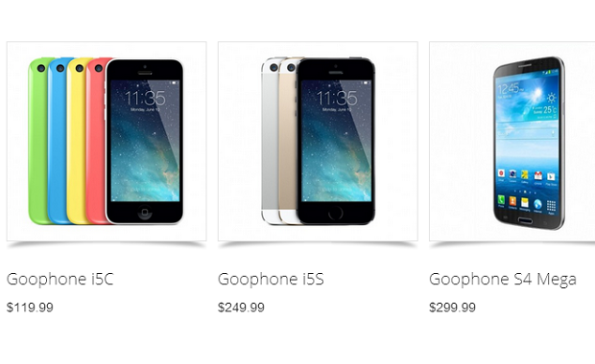 GooPhone è un'azienda cinese divenuta ormai famosissima per realizzare dei cloni Android dei device Apple, praticamente identici esteticamente agli originali e modificando anche l'interfaccia di Android così da renderla visibilmente identica ad iOS. In questi anni hanno riscosso un buon successo sul web, a tal punto che l'azienda ha pensato di aprire uno store internazionale che spedisce in tutto il mondo.
Tra le ultime novità vi sono il nuovo GooPhone i5C e i5S, cloni rispettivamente di iPhone 5C e iPhone 5S, ma anche il Goophone S4 Mega, clone del Galaxy Mega di Samsung.
A seguire vi lascio le caratteristiche di GooPhone i5S e Goophone S4 Mega:
Goophone i5S:
4-inch QHD display, 960*540 pixel
1.2GHz MTK MT6589 quad-core processor
Super slim aluminium body
8MP rear camera with LED flash light
1GB RAM and 8GB storage
Android OS
Goophone S4 Mega:
 6.45-inch QHD display, 1920*1080pixel
1.5GHz MTK MT6589T quad-core processor
13MP rear camera with LED flash light, 5MP front camera
2GB RAM and 32GB storage
Android 4.2 OS
[youtuber youtube='http://www.youtube.com/watch?v=82Xj-cfjuGU']
Per maggiori informazioni vi inviato a visitare lo store ufficiale.